Clear Quartz Crystal Pendulum - Harmonizing and Amplifying
Clear Quartz Crystal Pendulum - Harmonizing and Amplifying
View Images
Price: $52.00
Availability: in stock
Prod. Code: PDM-CQTZ-RD
Clear Quartz Crystal Pendulum
Harmonizing and Amplifying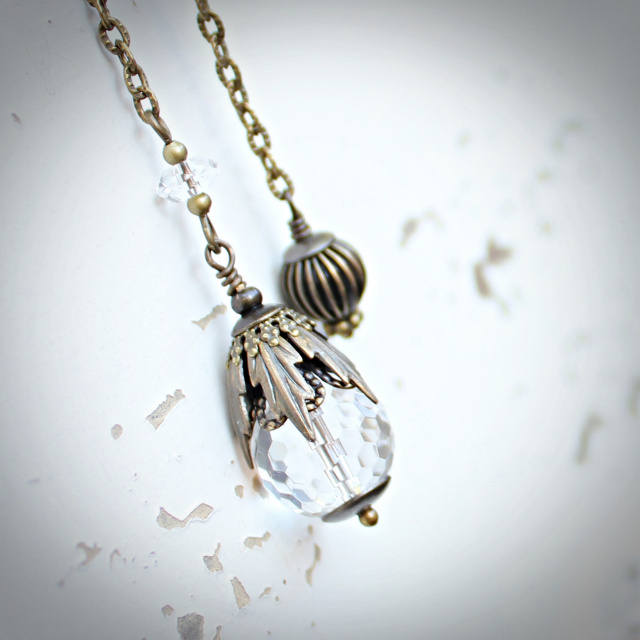 Clear Quartz, the mother of all crystals, is a stone that harmonizes and aligns energies. This beautiful crystal amplifies, stores, and transfers energy from around, making it an excellent choice for programming intentions. Clear Quartz helps to clear emotional issues, enhance self-acceptance and love. It activates the crown chakra and works with all chakras. A purifying stone, it stimulates positivity, improves energies on all levels, and helps maintain balance.

Clear Quartz is a stone that is used to enhance the energies of other stones and to activate energy in the body. It is used to "serve and charge other crystals" by using your intentions. You can also use it to clear negative energy from other stones. An excellent stone for intuitive work, Clear Quartz will assist in clarity, cleansing, focus, and it enhances communication with spirit.

A beautifully faceted Clear Quartz Crystal is set with highly detailed, antique bronze accents, a corrugated, antique brass bead at the end, and topped with a small faceted quartz crystal. The pendulum measures between nine and ten inches in length.

All Circa 1890 pendulums measure between 7 and 10 inches in length and can be held at any preferred point along the chain as feels comfortable for your reading.