Cardamom Tea...
and the Health Benefits of Lemon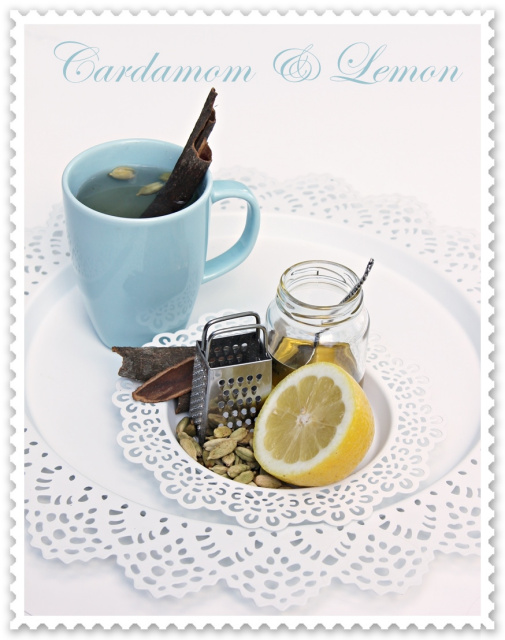 Fall is a coming...
Although many of us have been experiencing a long extended summer with balmy temperatures right into October soon fall will be upon us. It is time to get out the vitamin C and D.
Iwill keep this months newletter short and sweet with a favourite recipe for my fall warm up tea as well as some updates for up and coming shows.
We start our Christmas show season in Red Deer, Alberta at the end of October and then it is off to Regina, Winnipeg, Toronto, Calgary, Edmonton and Ottawa.
If you are in the Toronto area make sure to visit us at the One of a Kind Christmas Show & Sale at booth P59 - Nocturne! Click below to get $3.00 off admission.
The show schedule is a busy one and I am working hard preparing all the great new designs for the upcoming season. I will be sure to drink lots of my favourite concoction.
Let me preface this recipe by saying that this no caffeine tea is chock full of goodness, including lemon health benefits that aid in cleansing, immune boosting, PH balancing and improved digestion. Lemon is filled with the natural antioxidant power of vitamin C and essential electrolytes.

Cardamom, Cinnamon, honey and lemon all have carminative and antibacterial properties to help you build immunity in the flu season and set the tone for the day with good digestion. To boot honey is known as a carrier that helps deliver all the benefits in the tea. I hope you like : )
Cardomom Tea with Lemon, Cinnamon & Honey
4 Cardamom pods
(you can grate one end of the pods to open them and just drop the seeds and the whole cardamom into your cup)
2 - 3 pieces cinnamon bark or one cinnamon stick
(keep the cinnamon in or out depending on how spicy you like your cinnamon)
1 generous squirt of fresh lemon
1 teaspoon of honey
Add hot water and steep for a few minutes

Enjoy!
Optional - you can also add a slice of fresh ginger to aid in digestion and help fight a cold. (If you are perimenopausal you may want to leave out the ginger as it tends to increase hot flashes)
I hope you love this special tea as much as I do : )
xo... PB