Jewelry With Meaning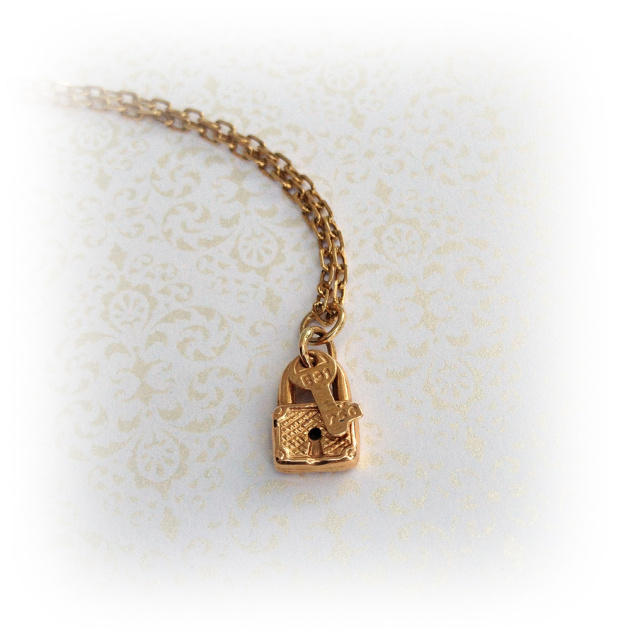 Jewelry with meaning is not always relegated to designs with lucky charms or gemstones for your birth month. Often times the meaning comes from your own personal history.
It could be your first piece of jewelry from when you where a child or even a junky trinket that you found on the side of the road.
The meaning is what you have invested in that special piece. That is what takes
that little piece from junk to jewel.... from just a material possession to a treasured
memory that you will pass down to your children.
As the summer draws to a close I am reminded of the summer that I lost a special
and cherished possession.
By the time I was three my two sisters and I each had three such pieces of jewelry
with meaning...a gold pair of stud earrings a long gold charm necklace and a gold ring.
Of those three items my favourite was the charm necklace which had a tiny lock and key. For me it represented an important time of change for my family as my parents prepared to bring us to live in Canada.
One year, much to my despair, that little key went missing from the necklace. I cried at the thought that I would never have that sweet little key again. The necklace came from Argentina and I knew that I would never see anything like it again in my life.
My friend around the corner who lived over a variety store that her parents owned came knocking at my door one day. It was a bit odd as her parents where very strict and rarely let her come over.
I still have the image of her standing in our entry way burned in my memory. She held out her closed hand and said "guess what I am holding?" At that very instant I knew that she was holding the key. She had found it in the crack of the cement in front of her parents store.
To this day I am in awe that this little key made it back to me. It taught me to believe in something great. There were greater energies at work than I could see. I took that necklace straight out to a local jeweler to have the little ring soldered closed so that I would never loose that key again.
Of all the "things" that I own that lock and key is my most prized material possession and so that you have an idea of just how small the key is, here is a photo of it on my five year old daughter's finger.
You might agree that it was a small miracle that my friend even spotted it outside her store.
As for junk or treasure here is a little lucky charm that I found when I was little. It
used to have a little loop for hanging and it is made of plastic, but it is one of my
little treasures from childhood. It is purely sentimental jewelry.
So...jewelry with meaning is really about emotional investment and that is the
fuel that makes it valuable and lucky : )
At Circa 1890 we are busy preparing for our Christmas shows....what Christmas? That's right it is time to get in high gear so that we can bring to you our own special jewelry with meaning. We are honoured to share our love for jewelry with you and hope to have a part in the memories you create.
Sincerely,
Patricia