Welcome to our first Lifestyle 1890 newsletter.

La Belle Époque, the "Beautiful Era", was a time lent to aesthetics, quality workmanship and attention to detail. From fashion to architecture to lifestyle this era of grandeur has left many of us with a yearning for the grace of an era gone by. Who better to celebrate our first newsletter than the Gibson Girl.... the face of that era.

Who was the first Gibson Girl?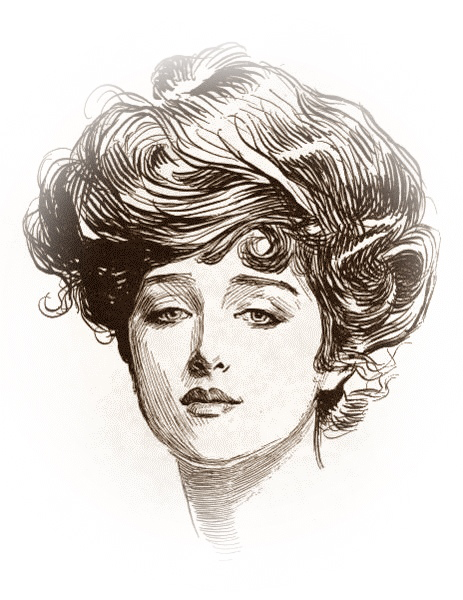 The iconic Gibson Girl from the 1890's was created by illustrator Charles Dana Gibson. The Gibson Girl represented the American ideal of female beauty. Her tall figure and S-curve shape was the image of the era. Gibson portrayed her in various social settings in stylish fashion with hair piled high.
The Gibson Girl became not only the figure of ideal beauty, but also a fictitious manifestation of the woman desired by both men and women. Her personality and charm made men want to have her and women want to be her. She exuded confidence and independence in her pursuits. Whether she was seeking education or a mate, she did it with poise and a sense of ease.
The Gibson girl was smart, stylish and active both physically and socially. She dressed with impeccable style and was a member of upper class society.
While she did to some degree represent emancipation, she was created to stay somewhat within the boundaries of the female role of the current times. For this reason The Gibson Girl gained popularity with both men and women. She pushed the envelope enough to peak curiosity of both sexes, yet she stayed true to her role as a woman living in the 1890's.
Charles Gibson portrayed the Gibson Girl in his own charismatic style and light-hearted humour. As though real, his representation of the ultimate American beauty captured the interest of all and set a precedent for both female fashions and character.
So, who was the first Gibson Girl? Although there was much speculation as to who the real Gibson Girl was, she was thought to be modeled after Gibson's wife Irene Langhorne. I can think of no better inspiration for creating the ideal beauty than the love of one's life.
----------------------------------------------------------------------------------------------------------------------------
July's Summer Salad
Kale and Kalamata Salad
1 large bunch of Kale washed, well dried and stripped off the stems
2 avocados
1/2 cup chopped Kalamata olives
1 cup of Qinoa measured dry then cooked in 2 cups of water for 12-15 min
(let sit for 5 min then cool)
Juice of 2 lemons
1 bunch of radishes cleaned and chopped
salt to taste
Wash Kale and slide leaves off stems then dry the leaves well.
Break into bite sized pieces and work avocado into the
kale until the avocado is disolved.
Add Qinoa, chopped olive, radish and lemon juice. Toss
and salt to taste. Will last in a closed container for
three to four days. Delicous...yum!
Did you know that Kale is chock full of vitamins and minerals
especially A, C and K? It is not only nutritional but also
excellent for detoxifying and supporting the liver. Kale is a natural
antioxidant and anti-inflammatory. It contains a chemical which
helps to block cancer cells and it is shown to lower cholesterol.
Here's to a joyful path to better health and longevity!
*important! those taking anticoagulants (blood thinners) should avoid kale.
----------------------------------------------------------------------------------------------------------------------------
A Sentimental Journey.....The cherished locket
Although the locket has been around for hundreds of years it was popularized during the Victorian Era by the fashionable locket necklace. For years the locket has been a cherished item in the jewelry box for it represents family, love and sacred memories.
Often times a locket would hold a photo of a loved one or a lock of hair. Some lockets where designed to encase one's favourite perfume.
The locket has been a mainstay in jewelry collectables as it is truly an item that is connected to the heart and a keepsake for the changing generations.
From childhood wishes for the cherished locket to fond memories of Grandma's jewelry box the locket has forever found a place in our hearts.
New in our locket collection we have the adorably cute miniature book locket. You may not be able to fit the group family photos from both sides of your family but, you are sure to love this little charm.